In their highly recommended book "Outstanding Teaching: Engaging Learners", Mark Burns and Andy Griffith set out a number of techniques for tapping into the holy grail of engagement: intrinsic motivation.
Using foam dice (they do need to be foam or the activity quickly becomes too noisy) and a 6 x 6 grid of stimuli, a random element is introduced to the way learners interact with content. It can be particularly helpful with writing / creativity.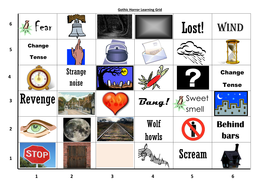 This example
(encouraging learners to explore writing in the Gothic Horror genre) is fairly typical.  Learners use dice to land on squares in the grid such as "Lost!" or an image of an egg timer, then attempt to write a sentence inspired by / including the content of the grid square. Learners work in pairs and swapping the pen after each sentence.